Recommended Equipment and Software for Amazing Videos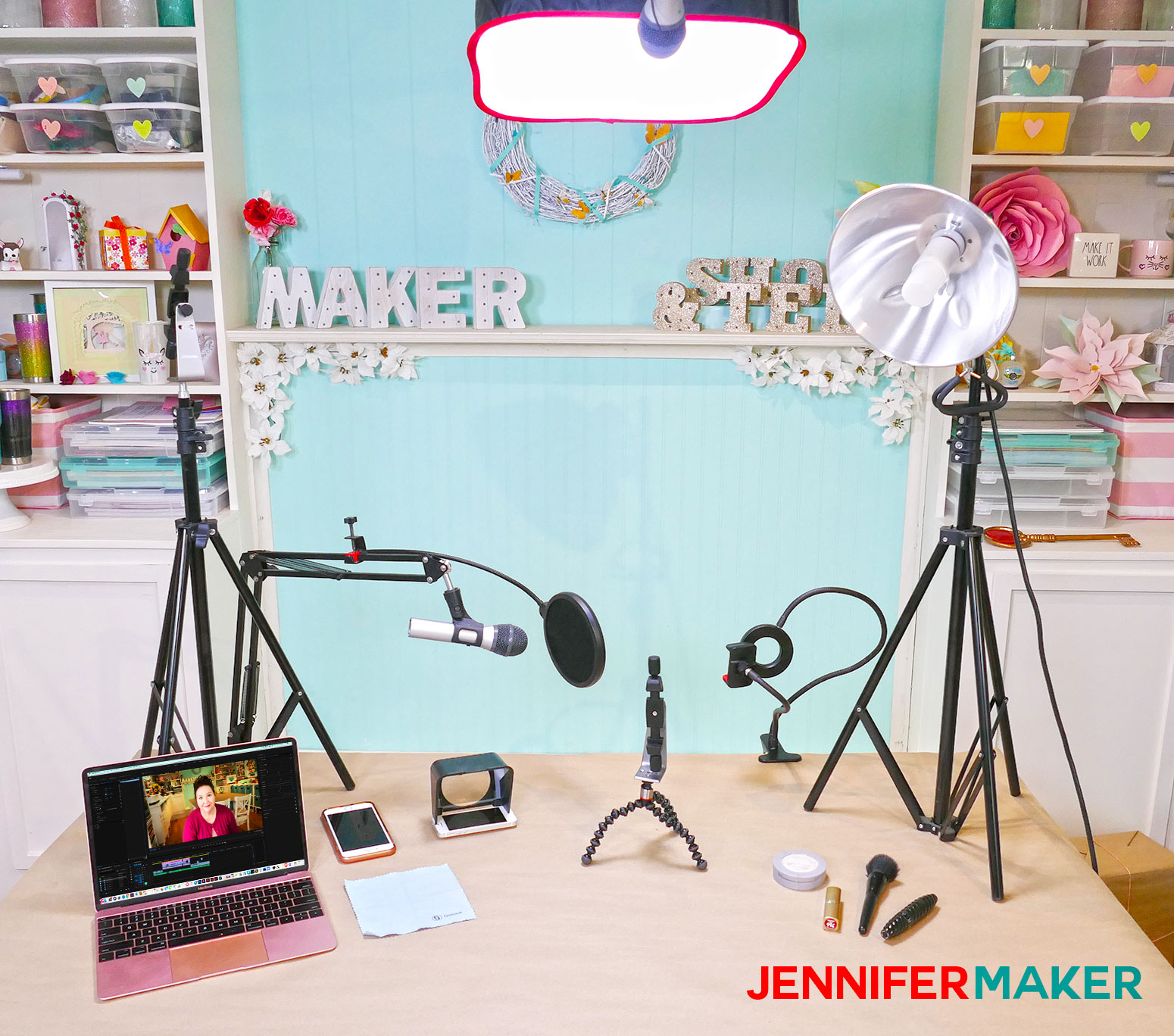 This is a list of video equipment, software, and other things I use, categorized by topic and then by quality. This publicly-accessible list contains affiliate links for your convenience (which means if you make a purchase after clicking a link I will earn a small commission but it won't cost you a penny more)! Read my full disclosure policy.
Lighting:
Good: Mini Selfie Ring Light
Better: CFL 85W 5500K Daylight Bulbs* or Large Ring Light with Filters & Diffuser
Best: LED 1600 Lumens 5000K Daylight Bulbs* or LED Light Panels ** (and you get get even fancier and more expensive LED Light Panels like these)
* The bulbs need to be put into a light socket -- I use these inexpensive reflectors.
** I use these softboxes over my LED light panels
Note: Artificial lights can cause banding in videos, especially visible if you speed up or slow down the video. Always test and watch for this. If you have problems, switch up your lighting -- when it comes to flicker, I have the best results with CFLs and the worst with LEDs, but there are many factors that can go into why there is a flicker.
Tripods:
Good: Joby-Style Tripod or Mini Selfie Ring Light
Better: Extending Tripod with Phone Mount and 1/4" mounting screw that fits most web cams and cameras
Best: Magic Arm with Camera Bracket and Super Clamp
Backgrounds:
Good: An uncluttered and distraction free wall or space in your home. Watch for reflections and glare, which are distracting. If you don't have this, get an 8' x 4' panel and paint it with flat paint.
Better: A photo backdrop, like a seamless 86" or 107" wide photo paper and a stand, or a green screen that is well illuminated and wide enough (at least 6' feet wide is needed for most widescreen cameras)
Best: A "set" you design for your specific needs
Cameras:
Good: iPhone 7 and later (you want a 7MP Facetime HD or higher camera)
Better: 1080p webcam, such as the Logitech C922 Pro or a built-in computer camera (my iMac Pro has a 1080p FaceTime HD camera -- but beware of the cameras in MacBooks, as they are 720p and NOT good looking)
Best: High-end point and shoot like a Panasonic Lumix FZ1000 (I use two of these) or a DSLR like a Canon EOS 80D (I use one of these)
Microphones:
Good: Your iPhone Mic
Better: USB Mic (Audio-Technica ATR2100 or Rode NT) and desktop-mounted boom arm + pop filter
Best: XLR Mic (I don't currently use one of these, but one day will move to them)
Makeup:
Good: Loose powder
Better: Translucent powder, matte blush or bronzer (to avoid looking washed out), and matte lipstick to accentuate the mouth as you speak
Best: Ultra HD Invisible Foundation that matches your skin tone, Translucent HD Powder or Extreme Close-Up HD Finishing Powder, matte eye shadow (no shimmers), eyebrow pencil (to define brows), mascara and eyelash curler (to define eyes), HD matte cream blush, bright-colored lipstick
Tips: The Make Up For Ever "HD" line was designed to look great on-camera.
Note: Men should also wear translucent powder to minimize distracting shine.
Avoid: Eyeliner, anything shimmery or pearlescent, overly light or overly dark lipstick, any product that is 100% silica
Here's the exact makeup colors and brands I wear on an everyday basis (because it seems like I'm making videos nearly every day these days):
Note: I also use and recommend Elemis Pro-Collagen Advanced Eye Treatment (for decreasing bags under eyes)
Teleprompters:
Parrot Teleprompter and Parrot App
Note: I haven't used any other teleprompter.
Livestreaming Software:
Good (Free): Facebook or YouTube's built-in tools
Better: Zoom.us or OBS
Best: ECamm Live (Mac) or OBS Studio (Windows)
Editing Software:
Good (Free): iMovie (Mac), Shotcut (Windows)
Better: Final Cut Pro X (Mac) or Corel VideoStudio (Windows)
Best: Adobe Premiere Pro
Editing Hardware:
Good: Whatever you have that will run the above software, preferably with at least 16 GB of RAM (I started editing video on an iMac with a 4 GHz processor and 16 GB RAM).
Better: Computer or laptop with at least 32 GB RAM
Best: Computer or laptop with at least 64 GB RAM (I now use an iMac Pro with a 3GHz processor and 64 GB of RAM because my iMac with 16 GB was having issues processing video)
Miscellaneous:
These are other things I use and find really helpful in making videos:
Extra USB cables
USB Extension cables for my microphones
Photo card reader
Lens wipe
AC adapter for my camera batteries so they can always be on
One power strip that all of my lights and camera are plugged into (so I can just turn it on and off with a switch)
Cake stands and brown-paper wrapped packages for displaying things on
Various mats and poster boards that I use as backdrops
---
AMAZON ASSOCIATES DISCLOSURE
Jennifer Marx is a participant in the Amazon Services LLC Associates Program, an affiliate advertising program designed to provide a means for sites to earn advertising fees by advertising and linking to Amazon.com.