Struggling with Pinterest? Not even sure where to start? Join the club! Most bloggers have a love/hate relationship with Pinterest -- but the more you know and understand it, the better you can use it!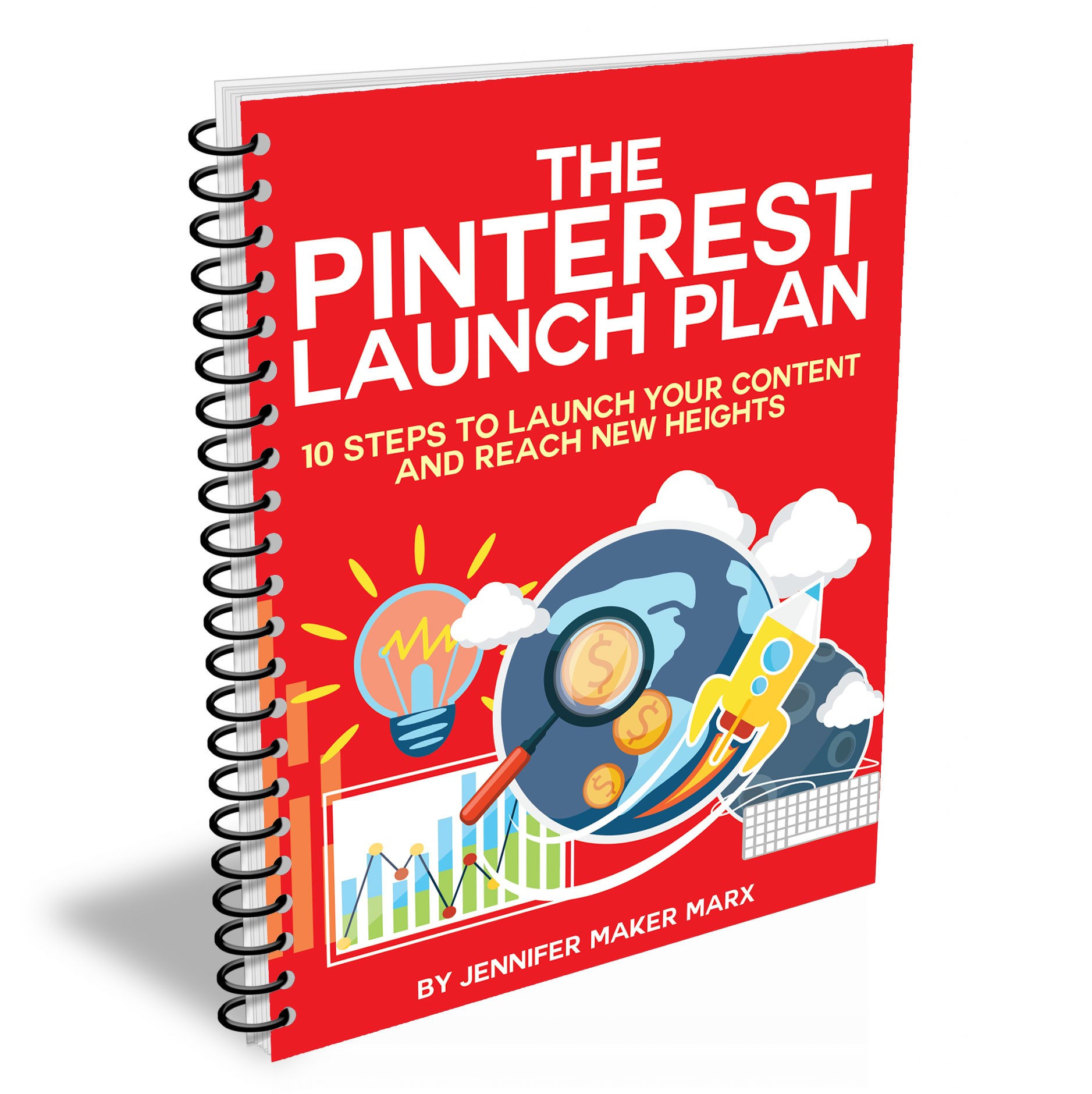 The Pinterest Launch Plan teaches you how to setup, strengthen, and set a course for success on Pinterest. This is a set of 10 steps to teach you how to drive traffic from Pinterest to your blog. Inside you'll find the following tools:
The Pinterest Launch Plan e-book (an 80-page formatted e-book in PDF format)
All data from my Great Pinterest Experiment, which took a brand new blog up to 773 sessions/day in Pinterest traffic in under one month.
Videos that show you how to setup an account, create strong boards with strong pins, and find group boards that will work for you
Access to a Google sheet for tracking your progress, pins, and launch plans
Printable worksheets if you prefer to work offline
The Product Launch Plan is the core of my personal strategy on Pinterest, which helped me launch my own blog and continues to drive traffic, subscribers, and sales.
How This E-Book Came About:
When my blogging friends heard about my success with Pinterest, they asked me to tell them about my personal Pinterest strategy. I told them what I knew, I did videos, and I offered tips. If you've been following my newsletter for a while, you'll know I've shared Pinterest tips many times there and in my Facebook group.
But, like most things, it's not so simple. It's hard to communicate a complete picture over Facebook posts and live videos.
And while I get great traffic from Pinterest (40% of my traffic), I wondered if my strategy work for others. Instead of just wondering if my personal strategy for Pinterest worked for any other blog, I tested it. I created a brand new blog and a brand new Pinterest account. It had NOTHING to do with my current blog -- totally different topic. And I applied my strategy to it.
This is what the traffic to the new, 28-day-old blog from the new Pinterest account looked like after 28 days:
This wildly exceeded my expectations. I was hoping for a general trend upward, yes, but was really surprised by these results. But the numbers didn't lie. No one knew about the blog or the account but me, and I'd exempted my IP address from the Google analytics -- so all this traffic was SOLELY from Pinterest.
I shared my results with my blogging friends in my Facebook group (are you in there?) and I was encouraged, repeatedly, to share what I knew. And so I have.
The e-book covers the 10 steps I feel are important to getting traffic from Pinterest, from starting (or strengthening) an account to creating a daily schedule that works for you. The real meat is my focus on Pinterest SEO and keywords and the way I personally launch a new pin to the world.
I also share all of the research and data I collected from my Pinterest experiment. Yes, charts and spreadsheet data, for those of you who like numbers. And as I JUST did it, this is really fresh information.
I am no Pinterest rockstar, but I have found a strategy that works.
And the price is low -- this is a strategy, not a full-fledged course. You get the 80-page ebook, three videos, several printable worksheets, and a blank spreadsheet to track your progress.
My Pinterest Experience: I began using Pinterest during its beta period in 2011. I first used it as a consumer, but quickly saw the value in using it for my travel publishing business beginning in 2012. For a period of time, I managed another very large site's Pinterest account and improved their traffic by 1000% (I stopped managing this when my own blog began to take off and time became more of a premium). Since then, I have used Pinterest to launch two blogs, one of which provides me with a full-time income, as well as helped friends boost their blogs and accounts using my tips.
I get my Pinterest traffic (about 2000-2500 sessions/day) on my JenniferMaker blog with intentional pinning and a focus on keywords. I did not get lucky with a bunch of viral pins that took off and continued to drive traffic. Rather, I saw slow growth over time, plenty of highs and lows, and maybe a little viral pin that peaked and fell once in a while. That's what most bloggers will experience. And that's what this strategy represents -- a way to launch your content to Pinterest in a logical, systemic way to maximize your exposure and generate growth over time.

My Pinterest Strategies: Everything I teach in my e-book is based on solid research, information and data learned directly from Pinterest either through its webinars or articles, and personal experience. My strategy can be accomplished without the use of any schedulers, but I also include information on you can incorporate schedulers if you wish.
Is this just a rehash of other information out there? Yes and no. I cover the basics that are essential, BUT I also tell you how I do things ... and it's not the way I see others do it. You'll have to be the judge here.
Are schedulers necessary for this strategy? No. Use them or lose them. Your choice.
How much time do I need to implement? This is NOT a set-it-and-forget-it strategy. You'll need some time each day to pin from your blog and from Pinterest.
Do I have to buy anything else to implement this strategy? No. I do make recommendations for things I use and find valuable in helping me rock Pinterest, however, such as Canva, schedulers, Carly Campbell's e-book, stock photography, and an SSL certificate on your blog.
Will this ebook be kept updated? Yes, I intend to keep The Pinterest Launch Plan e-book updated as I learn about new changes, at least every few months. Future versions of the e-book will be free to those who purchase it.
Is it any good? You'll have to decide for yourself. Here's what fellow bloggers have to say about my Pinterest strategy:
" Jennifer, I've implemented all the things we talked about for Pinterest and my traffic has doubled, and some days tripled. It's now outpacing my organic traffic, which hasn't happened in at least a year and a half. Thanks for all your help! -- Corinne Roth of ThePragmaticParent.com
"Jennifer, I just wanted to say that I have been following your experiment and trying some of the things you are. It was a lot of work, but here are my latest pageviews. I usually averaged 20 views a day. There were some good days but never like this. So thank you!" -- Dionne Myrhe of HomemadeOurWay.com
"You are an excellent teacher. Even though I have been devouring Pinterest information (and I've been a Pinner for years), I learned a lot from the plan. The plan is clear, complete, actionable, and includes up-to-date information. Importantly, you've stated the limitations of your information." -- Ksenia Barton
If you're still not sure if The Pinterest Launch Plan right for you, come on over to my Facebook group and see what folks who are implementing it have to say. Also, while you're there, search on #pinterestexperiment to see my day to day results as I posted them in April/May 2018. And, remember, I have a money-back guarantee on everything I do -- if you don't like it, tell me and I'll give you a full refund.