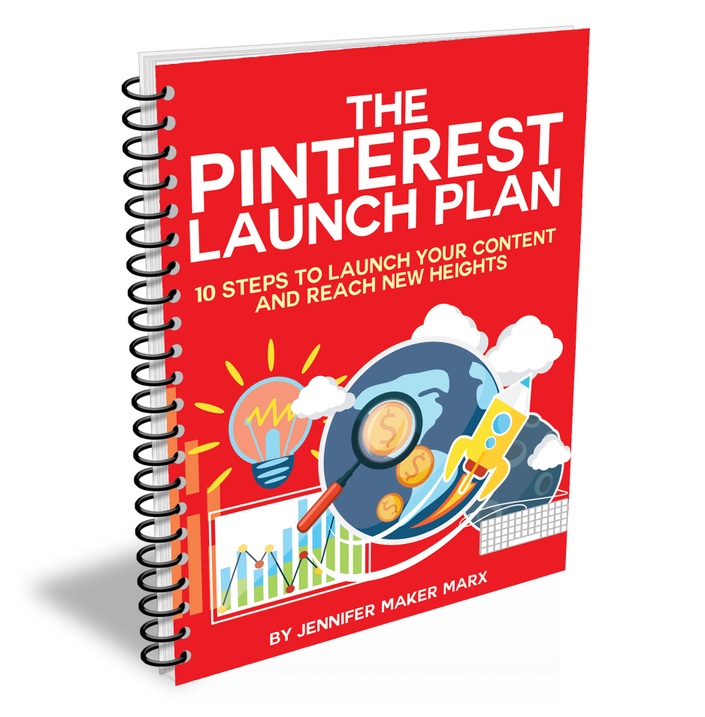 The Pinterest Launch Plan
10 Steps to Launch Your Content and Reach New Heights
Struggling with Pinterest? Not even sure where to start? Join the club! Most bloggers have a love/hate relationship with Pinterest — but the more you know and understand it, the better you can use it!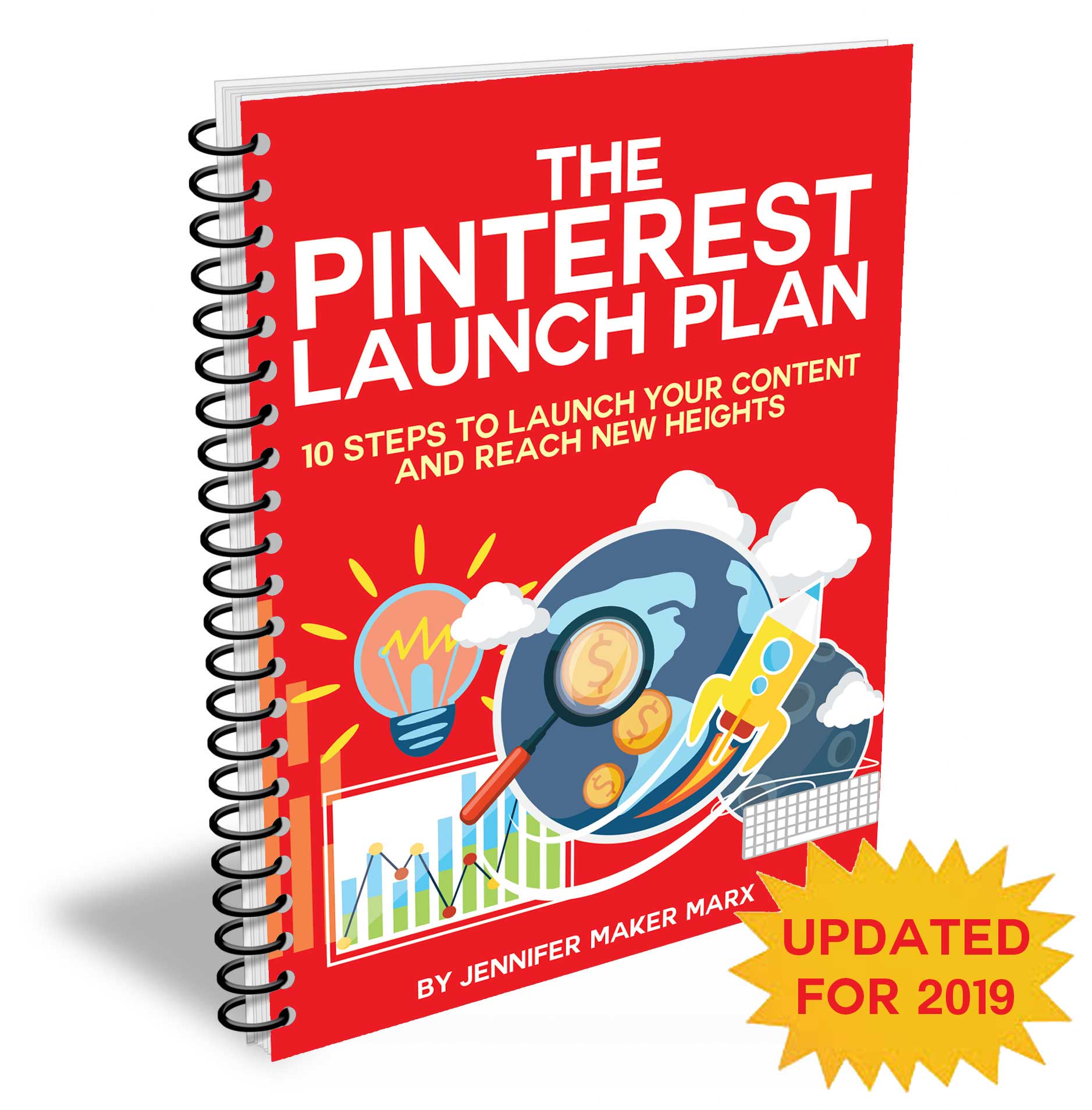 The Pinterest Launch Plan teaches you how to setup, strengthen, and set a course for success on Pinterest. This is a set of 10 steps to teach you how to drive traffic from Pinterest to your blog. Inside you'll find the following tools:
The Pinterest Launch Plan e-book (an 101-page formatted e-book in PDF format)
All data from my Great Pinterest Experiment, which took a brand new blog up to 773 sessions/day in Pinterest traffic in under one month.
Videos that show you how to setup an account, create strong boards with strong pins, find group boards that will work for you, and use Tailwind with my system
Access to a Google sheet for tracking your progress, pins, and launch plans
Printable worksheets if you prefer to work offline
The Product Launch Plan is the core of my personal strategy on Pinterest, which helped me launch my own blog and continues to drive traffic, subscribers, and sales.
How This E-Book Came About:
When my blogging friends heard about my success with Pinterest, they asked me to tell them about my personal Pinterest strategy. I told them what I knew, I did videos, and I offered tips. If you've been following my newsletter for a while, you'll know I've shared Pinterest tips many times there and in my Facebook group.
But, like most things, it's not so simple. It's hard to communicate a complete picture over Facebook posts and live videos.
And while I get great traffic from Pinterest (40% of my traffic), I wondered if my strategy work for others. Instead of just wondering if my personal strategy for Pinterest worked for any other blog, I tested it. I created a brand new blog and a brand new Pinterest account. It had NOTHING to do with my current blog -- totally different topic. And I applied my strategy to it.
This is what the traffic to the new, 28-day-old blog from the new Pinterest account looked like after 28 days:
This wildly exceeded my expectations. I was hoping for a general trend upward, yes, but was really surprised by these results. But the numbers didn't lie. No one knew about the blog or the account but me, and I'd exempted my IP address from the Google analytics -- so all this traffic was SOLELY from Pinterest.
I shared my results with my blogging friends in my Facebook group (are you in there?) and I was encouraged, repeatedly, to share what I knew. And so I have.
The e-book covers the 10 steps I feel are important to getting traffic from Pinterest, from starting (or strengthening) an account to creating a daily schedule that works for you. The real meat is my focus on Pinterest SEO and keywords and the way I personally launch a new pin to the world.
I also share all of the research and data I collected from my Pinterest experiment. Yes, charts and spreadsheet data, for those of you who like numbers. And as I JUST did it, this is really fresh information.
I am no Pinterest rockstar, but I have found a strategy that works.
And the price is low -- this is a strategy, not a full-fledged course. You get the 101-page ebook, three videos, several printable worksheets, and a blank spreadsheet to track your progress.
My Pinterest Experience: I began using Pinterest during its beta period in 2011. I first used it as a consumer, but quickly saw the value in using it for my travel publishing business beginning in 2012. For a period of time, I managed another very large site's Pinterest account and improved their traffic by 1000% (I stopped managing this when my own blog began to take off and time became more of a premium). Since then, I have used Pinterest to launch two blogs, one of which provides me with a full-time income, as well as helped friends boost their blogs and accounts using my tips.
I get my Pinterest traffic (about 3000-3500 sessions/day) on my JenniferMaker blog with intentional pinning and a focus on keywords. I did not get lucky with a bunch of viral pins that took off and continued to drive traffic. Rather, I saw slow growth over time, plenty of highs and lows, and maybe a little viral pin that peaked and fell once in a while. That's what most bloggers will experience. And that's what this strategy represents -- a way to launch your content to Pinterest in a logical, systemic way to maximize your exposure and generate growth over time.

My Pinterest Strategies: Everything I teach in my e-book is based on solid research, information and data learned directly from Pinterest either through its webinars or articles, and personal experience. My strategy can be accomplished without the use of any schedulers, but I also include information on you can incorporate schedulers if you wish.
Is this just a rehash of other information out there? Yes and no. I cover the basics that are essential, BUT I also tell you how I do things ... and it's not the way I see others do it. You'll have to be the judge here.
Are schedulers necessary for this strategy? No. Use them or lose them. Your choice. If you want to use Tailwind, I do provide information on how to use it with my strategy.
How much time do I need to implement? This is NOT a set-it-and-forget-it strategy. You'll need some time each day to pin from your blog and from Pinterest.
Do I have to buy anything else to implement this strategy? No. I do make recommendations for things I use and find valuable in helping me rock Pinterest, however, such as Canva, schedulers, Carly Campbell's e-book, stock photography, and an SSL certificate on your blog.
Will this ebook be kept updated? Yes, I keep The Pinterest Launch Plan e-book updated as I learn about new changes, at least every few months. The last update was January 10, 2019. Future versions of the e-book are free to those who purchase it.
Is it any good? You'll have to decide for yourself. Here's what my fellow bloggers have said (without my asking first) about my Pinterest strategy: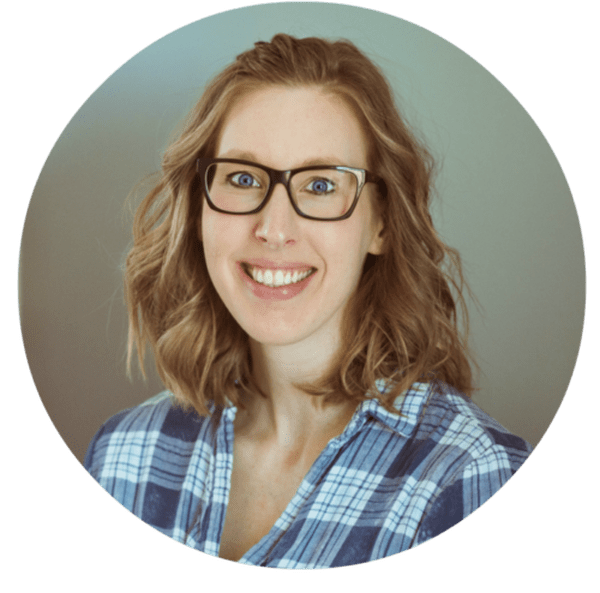 "Jennifer's Pinterest Launch Plan is the real deal! I had been trying to increase my website traffic through Pinterest for a few months but didn't really have a tactical plan for making it happen. After seeing zero improvements in my pageviews, I started looking for another option.

I saw Jennifer's Pinterest Launch Plan in the EBA group and Her "Great Pinterest Experiment" seemed legit, but I wasn't sure if I would have similar growth results not being in the same niche as she was for her experiment.
I ended up taking the plunge and purchasing her workbook because the cost would end up being pennies compared to the money I could potentially make from increasing pageviews and subscribers.
I am a rule follower by nature so having Jennifer give me step by step instructions was exactly what I needed. I did everything she said to do, every single day, without fail.
In just three months my pageviews had grown from 3,000 to 40,000!! I gained 1,000+ subscribers in two months and got accepted with Mediavine.

What I love most about the Pinterest Launch Plan is none of what Jennifer says is overly complicated. The steps you need to take are simple and easy to follow. If you implement the Pinterest Launch Plan, you will see results!"
-- Rachel, BudgetwithRachel.com
" Jennifer, I've implemented all the things we talked about for Pinterest and my traffic has doubled, and some days tripled. It's now outpacing my organic traffic, which hasn't happened in at least a year and a half. Thanks for all your help! -- Corinne Roth of ThePragmaticParent.com
"Jennifer, I just wanted to say that I have been following your experiment and trying some of the things you are. It was a lot of work, but here are my latest pageviews. I usually averaged 20 views a day. There were some good days but never like this. So thank you!" -- Dionne Myrhe of HomemadeOurWay.com
"You are an excellent teacher. Even though I have been devouring Pinterest information (and I've been a Pinner for years), I learned a lot from the plan. The plan is clear, complete, actionable, and includes up-to-date information. Importantly, you've stated the limitations of your information." -- Ksenia Barton
"If you haven't already taken Jennifer's Pinterest Launch Plan, DO IT." — Brittany Wise, OurHomeMadeEasy.com
"The Pinterest Launch Plan is amazing. 2 months ago when I began it, I had like 300 followers and I'm going to hit 900 soon so I tripled my followers, increased everything else and it is growing so much faster than it did before." -- Natasha Nicole, Unjunkiefied.com

""If you haven't already taken Jennifer's Pinterest Launch Plan, follow this book. I am only 1/3 of the way through and seeing results. I have been trying for months and in one week I have 5 new subscribers. It doesn't sound like much but it is more than the one I had (my best friend was my only subscriber). Seriously, get it, follow it, you wont regret it." -- Lisa Drew
"The Pinterest Launch is incredible. I can't believe I didn't start it sooner. THANK YOU SO much for creating these courses and for all your help. This is giving me so much encouragement to keep going." -- Maira Vial, vialdesigns.com
"I'm barely scratching the surface of the Pinterest Launch Plan and my sessions are up 34%. Can I just tell you I have paid waaaaaaay more for a Pinterest course that was not nearly as actionable or helpful? Jennifer Maker Marx you truly have a gift and i am so blessed to know you! " -- Brandi Kay, CreativeCuttingClassroom.com

"If you need any excuse to purchase Jennifer's Pinterest Launch Plan, here are 220 of them 🤣 I've been blogging for over a year and I've been pulling my hair out with Pinterest. One week after reading Jennifer's ebook and I finally feel like I know what I'm doing. The best $27 I have ever spent. Thank you Jennifer!! --Jenna D'Ambrosio Campbell, lanternlanedesigns.com
"Jennifer Maker Marx, thank you for the ebook! I redid my website (cleaned it up), then used my Google analytics and redid a few graphics for my top views since I started 4 months ago. One article has taken off in Pinterest. Since the new graphic, it has had 315 views, where 189 of those were yesterday alone! My site hit 288 views yesterday which was 10x normal. Thank you! 90% of the views were all from Pinterest. " -- Jacquie Ellis, SeekingSimpleLife.com
"The Pinterest Launch Plan is working so well for me. Thanks Jennifer!! Everything is going up!" -- Tanya Raedeke
"I purchased the Pinterest Launch Book on June 28th and started implementing the strategies the next day.... so I have over 30 days in using the strategy now. In June 34.26% of traffic came from Pinterest (#2 referral source). By July, 50.92 % of traffic came from Pinterest (#1 referral source). In sessions, that is a 300% increase from June to July, and in pageviews it is a 236% increase. So thought I would share this with everyone, especially those who have not invested the $27 on this book. So hopefully the above stats are enough to let folks know that whatever the magic is.... it seems to be working." -- Brandi Mahon, stampmesomelove.com
If you're still not sure if The Pinterest Launch Plan right for you, come on over to my Facebook group and see what folks who are implementing it have to say. Also, while you're there, search on #pinterestexperiment to see my day to day results as I posted them in April/May 2018. And, remember, I have a money-back guarantee on everything I do -- if you don't like it, tell me and I'll give you a full refund.
Your Teacher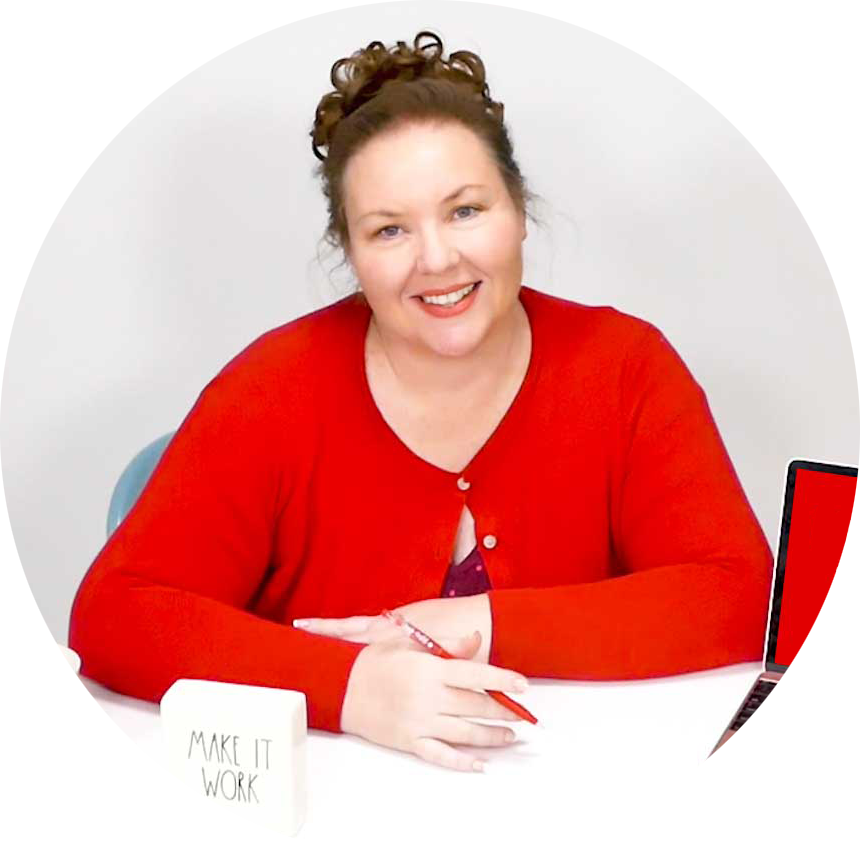 I inspire and lead the way for other bloggers and online content producers to prosper and succeed!
I began my online career in the '90s, where I was a beta tester for the "World Wide Web" and ran an online academy for America Online, teaching their employees, remote staff, and volunteers to create their online service and build their community. I extended my reach to books, where I became a bestselling author of more than 60 computer and travel guidebooks. I have taught over 20,000 students through courses and reached over 10 million readers over my 20-year career.
As a businesswoman, I co-founded a successful travel publishing business that produces innovative and award-winning guidebooks. Through that business, I built my mailing list to more than 60,000 and that single list has driven sales for YEARS and resulted in a $18,000 product launch.
Almost four years ago, I decided to "do something I love" with a personal blog about my DIY projects & crafts. I had NO mailing list, but I knew I needed one so I could reach MY people. In January 2017, I created a resource library out of necessity -- I needed a place to house my DIY & craft freebie downloads for my blog readers. I was astounded to discover just how successful that resource library would be in building a list from scratch. In less than six months, I had more than 10,000 subscribers. I spent no money on Facebook ads to build this list, nor did I use pop-up ads on my site to get people to join it.
I can teach you how to do this, even if you're brand new to the whole idea of a mailing list and list-building. List Love is a step-by-step system that will create a list you'll LOVE!
Here's what students who've taken Jennifer's courses have to say:
"Jennifer is an awesome teacher! I've taken several online classes, and she is by far one of the best I've learned from. Not only is she thorough, but she is clear, easy to follow, and anticipates questions beautifully. Her combination of video and written instructions is a win for all learning styles, which is a bonus. She's also fun!" -- Lisa Yvonne
"Jennifer is the first teacher I've met in years that puts her students first. She gives excellent instructions, answers all questions, and lends a hand when you're stuck! I've never had a more pleasant or effective learning experience." -- Michelle Darby
"Jennifer has nailed my style of learning. I need actionable steps and I need them in order. Without knowing what I need to conquer first, I get lost and overwhelmed. Not only has she mastered the step-by-step approach to teaching but she also offers a personal approach. I love knowing that I can ask any question, at any time, and get an answer. She is obviously committed to the success of her students; it shows with everything she does!" -- Kara Fidd
"The depth of information you will find in Jennifer's courses is beyond comparison! Jennifer is easy to listen to, very professional, and has a teaching style that makes anyone feel like they can learn! I've taken many courses and this is the first one that feels like everything is spelled out for me in an easy to understand format. She makes learning enjoyable and effective!" -- Amber Fox
"Jennifer is a delight to learn from - she knows her stuff, and she shares so much value with you in her courses - it's amazing they don't cost twice the price!" -- Lois @ Live Nourished
Course Curriculum
The Pinterest Launch Plan
Available in days
days after you enroll
BONUS: Videos & Walkthroughs (Optional)
Available in days
days after you enroll
BONUS: Tailwind Scheduling Tips & Tricks (Optional)
Available in days
days after you enroll
Frequently Asked Questions
How long do I have access to the ebook?
How does lifetime access sound? After purchasing, you have unlimited access to this ebook for as long as you like - across any and all devices you own.
What if I am unhappy with the ebook?
NO REFUNDS are available on digital projects if our system shows that the product download link has been clicked. If you have purchased one of our digital products, and have NOT clicked the link to access the product or the bonus content, you may request a refund within 30 days of purchase.
This course is not yet open for enrollment.