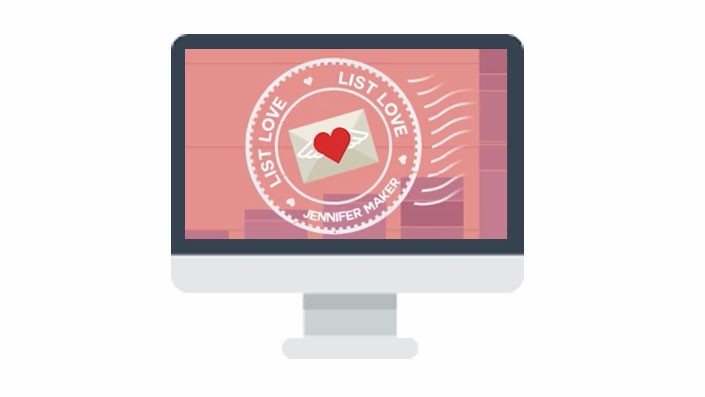 LIST LOVE Quick-Start
Fast-Growth Formula for List Building
LIST LOVE Quick-Start Guide is a short course that teaches bloggers how to grow their mailing list with freebies. No Facebook ads or Promoted Pins required! You will learn the simple strategies I used to grow my list from 0 to 10,000 in less than six months on a new domain. One year after following these strategies, I had 24,000+ subscribers. And now at just about three and a half years, I am up to 750k subscribers ... all following this same formula. Best of all my mailing list allows me to generate a full-time income on my blog which supports my family!
To give you an idea of the sort of signups I see on a daily basis, here are the stats on my mailing list, which was one year old at the time I took this screenshot: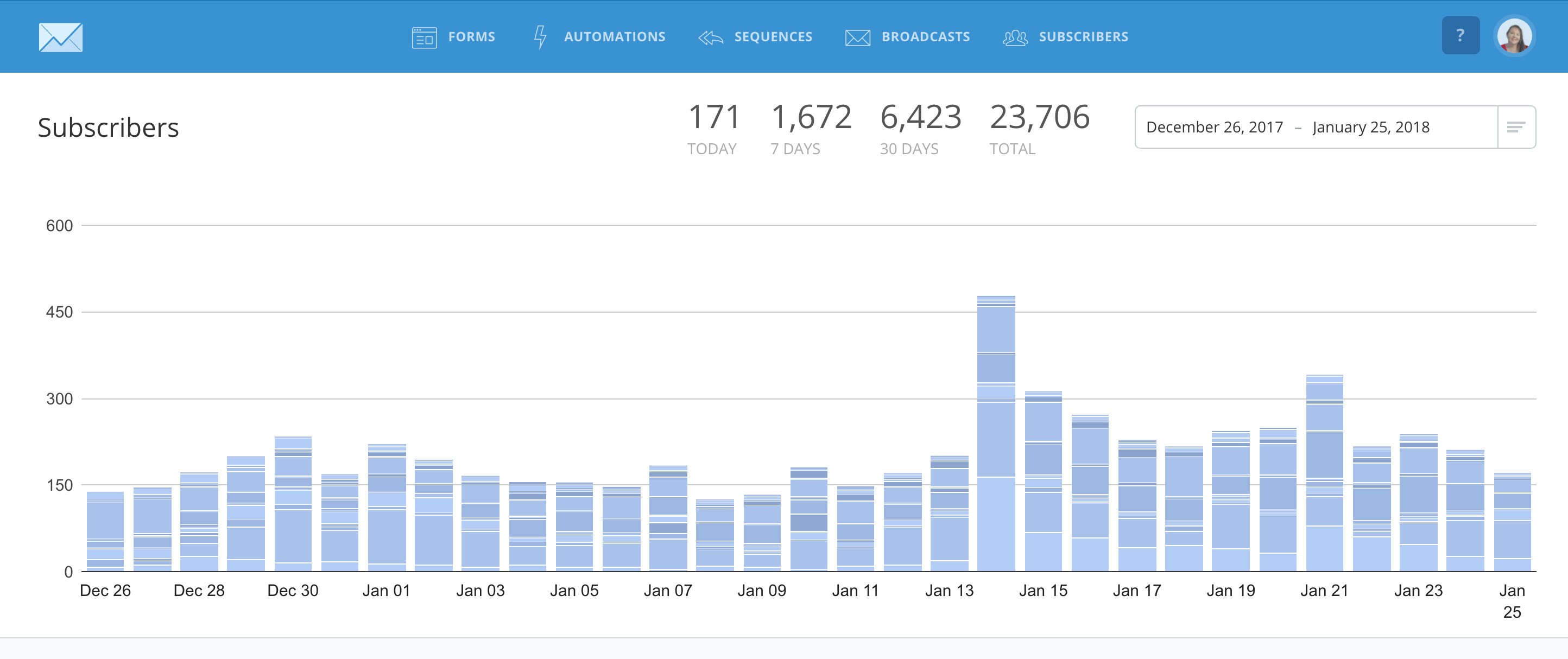 And here are my stats at almost two years old: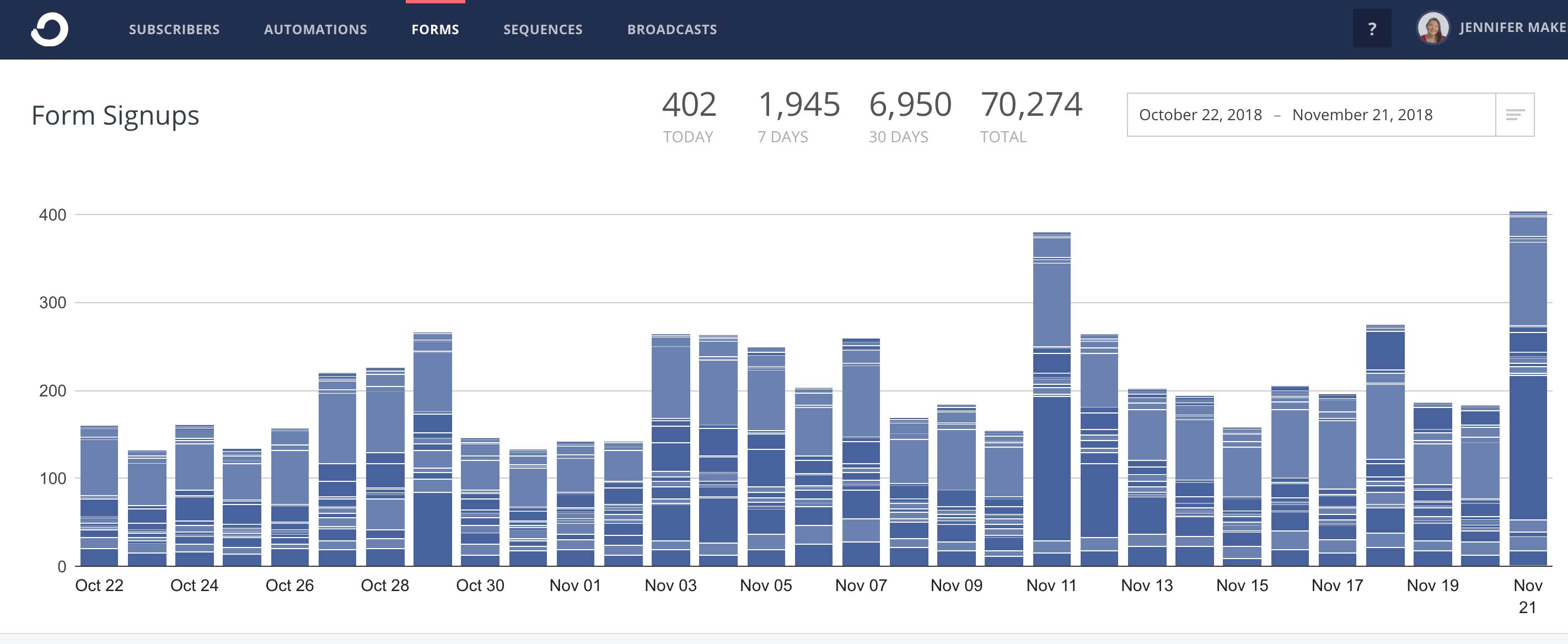 And it didn't stop there. Here is my list 26 months in and then 39 months in ... all grown with the LIST LOVE formula: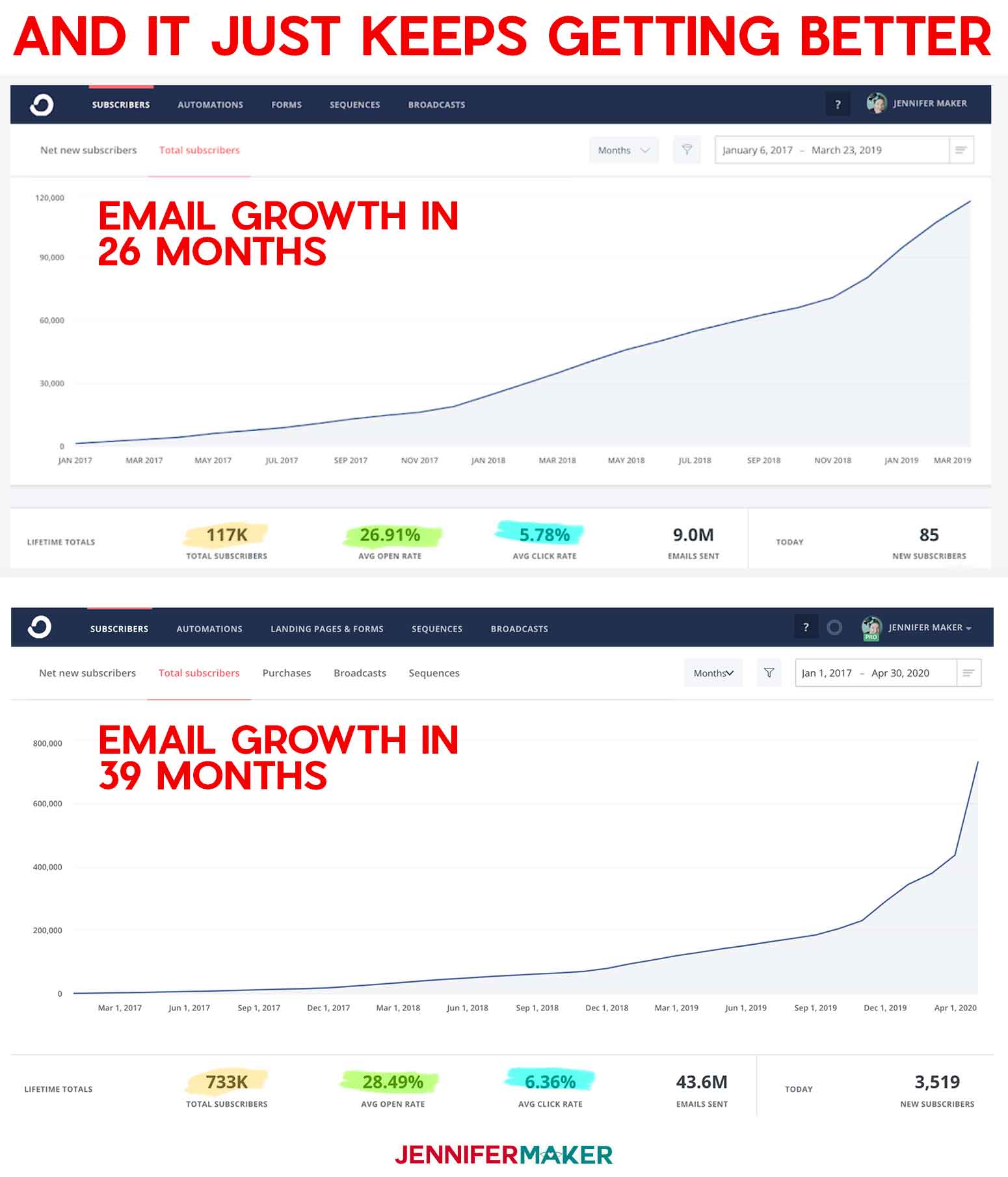 With my mailing list, I was able to earn over $15k/month when my blog was only nine months old by launching my first product to my mailing list (and ONLY my mailing list). Two years after starting my mailing list, I was earning over $65k a month, thanks to my mailing list. I now monetize my mailing list for affiliate marketing revenue, advertising revenue (via blog traffic I get when I send emails), and product sales. And whenever I want to reach my readers, I simply email them -- I don't have to worry about Facebook or Pinterest algorithms.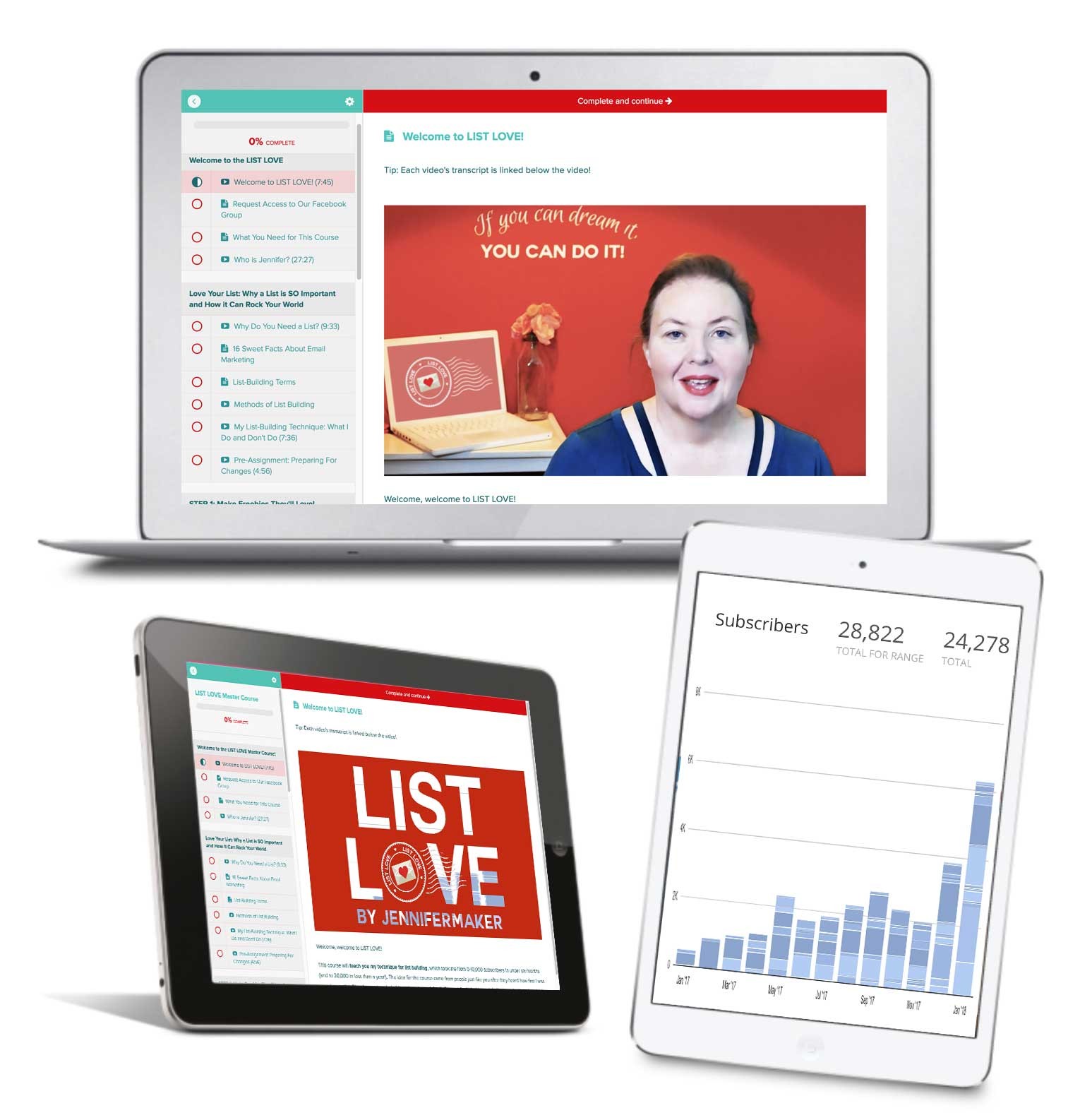 This quick course introduces you to the LIST LOVE formula. In this course you will learn how to:
Make Freebies Your Avatar Will Love
Set up a Freebie Delivery System
Tailor Your Blog Posts for Optimal Conversion
Imagine what a bigger mailing list could do for you and your blog!
Here's what some of my students have to say...
"Starting this course has been the best decision I've taken for my blog and growing my email list! I went from 18 subscribers to 1019 in just 3 months. Fast-forward to a year and a little over a month later, I'm at 8140 subscribers, that's over 600 subscribers a month!!! I truly believe in the quality content of this course. I went from being completely overwhelmed by the fact that I had to work on growing my list, but had no idea how to do it, to having a plan, a step-by-step process, and knowing exactly what to do to keep growing my email list. Jennifer, thank you SO much for sharing your knowledge with this course and with everything you share to help other bloggers succeed. " — Maira Vial - VialDesigns.com
"I was slowly growing my list since I started my blog in 2016 but it was pretty slow and sporadic. I started List Love not knowing what to really expect. Jennifer was using craft templates and tutorials as her blog's opt-ins and I didn't know if that would translate to my niche of starting a business. I am so glad I took the chance! Not only is Jennifer an excellent teacher but her technique translates to any niche. With the help of List Love, I have quadrupled my list in the last four months [from 1000 to 4000 subscribers] and it is growing every day!" — Emma Bates - EmmaLeeBates.com
"I absolutely loved the LIST LOVE course from Jennifer Maker! It isn't the first course I've taken on list building but it was the first that actually made the whole thing make sense to me. I went through the course from start to finish in a matter of a couple of weeks and immediately saw growth. My list started in February with 16 subscribers and I now have over 600 and growing every single day. Jennifer is an awesome teacher. She explains everything step by step so you're never left wondering what to do next. I recommend this course to anyone looking for the best way to grow their list. — Elizabeth Voyles - WorthWritingFor.com
Learn from someone who has been where you are.
I created the LIST LOVE system because I've been where you are. I started my DIY & Craft Blog (JenniferMaker.com) in October 2016. My first three months of blogging were a long, slow slog. I struggled to get posts out because it seemed like there was SO much to do—research ideas, photograph projects, edit photos, write posts, make promotional images, actually promote my posts. Ugh! Sometimes I wasn't sure what to even write about, and it was so hard to get people to visit my blog. I was doing ALL THE THINGS, but my growth was really, really slow.
Because I was so frustrated, I began learning everything I could about blogging. I kept coming across advice about how my blog should have a mailing list. At first, I thought it was just yet one more thing I had to do, and it was overwhelming to even think about. But I kept reading it, over and over, from bloggers who had "made it."
So at the end of that third month (January 2017), I began my mailing list. And I immediately began learning HOW to build a mailing list, because it's not as simple as slapping up a "subscribe to me" form on your blog. (Tried that, didn't work.) I researched, tested, and experimented. When I found something that worked, I did more and more of it. I continuously refined and focused until I had my own little formula that was working!
Within six months, I had built my mailing list to 10,000 subscribers!
Soon after this, I developed and launched my first product, a crafters' design course for my DIY & Craft Blog. I promoted my course to my mailing list, and only my mailing list, as a test. It was my first launch and I admit I was a little nervous! But the launch to my mailing list, which was now 13,000 subscribers strong, was a huge success and I earned over $12,000 just from that launch ... all thanks to my mailing list. Without that list, I probably would have been lucky to make a few hundred bucks and wasted a whole lot of effort.
By the end of my first full year of blogging, I calculated that my mailing list (which was at that point more than 20,000 subscribers) had earned me $24,548 through its power to promote my products, my affiliates, and my blog itself.
Amazing. I still am pinching myself.
But the real joy here for me, is not the money. It's that now, because I learned how to turn my readers into subscribers, I now have an AMAZING community of people around me. I can ask them any question and they'll respond. I can start a Facebook group and they'll come join me. I can issue a challenge and they'll rise to it! They can make nearly any endeavor successful because there are so many and they are so engaged. And that is a feeling like none other.
You can do this, too. And I can show you how.
"I am so grateful for List Love, and I wanted to share with you exactly how much this course has helped me grow my business since I purchased it last year. List Love, hands down, is the single most impactful course I've purchased to date for my blogging business. I started my blog in March of 2019 and signed up for an email service provider 3 months later, but I had no growth (and really no idea what I was doing) until I bought List Love! List Love is amazing because it teaches both the "why" behind building your email list and the "how" - the exact steps you need to take to get your email service provider set up properly. The tech side of list building was a real stumbling block for me in the beginning, until I found Jennifer's List Love course. Then I was off and running, creating valuable content and freebies my subscribers love. When I started implementing the strategies Jennifer teaches in List Love, my email list took off! In less than six months, my list has grown from 241 subscribers to over 2,700. My subscribers are my people - they are engaged, and they love hearing from me. I recently launched my first digital product to my list, and I was blown away by the response, and the sales! List Love teaches you how to grow your list with a mindset of service and offering value to your people - with this strategy, the sales come naturally. It's amazing. Thank you, Jennifer, for helping me set up and grow my email list through the strategies you teach in List Love." — Amy Romeu - AmyRomeu.com


Your Teacher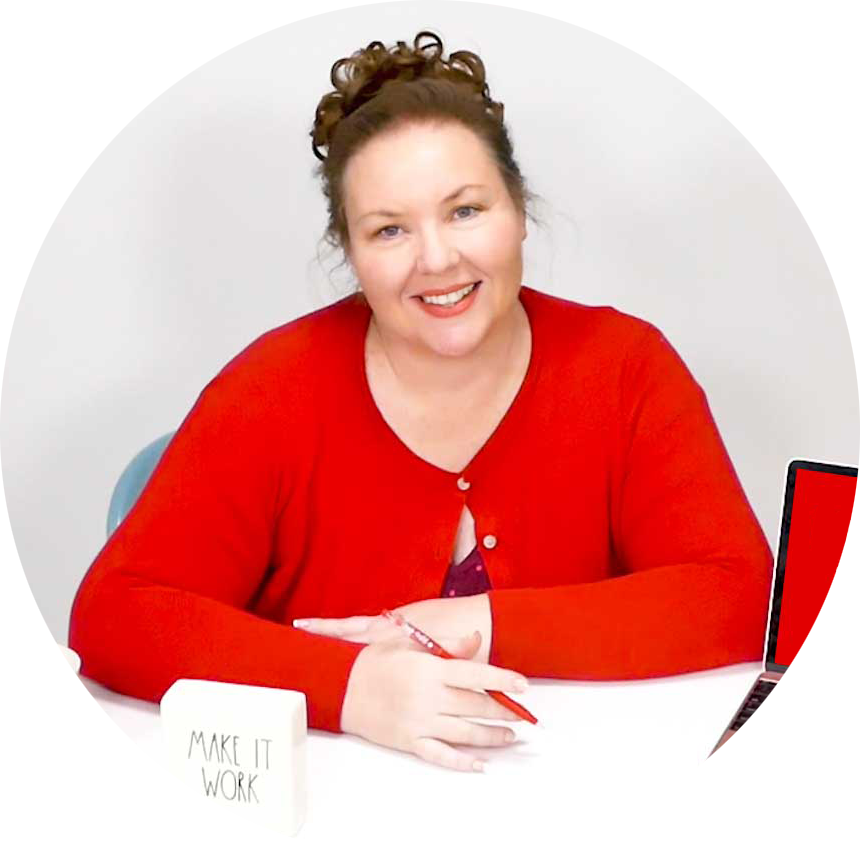 I inspire and lead the way for other bloggers and online content producers to prosper and succeed!
I began my online career in the '90s, where I was a beta tester for the "World Wide Web" and ran an online academy for America Online, teaching their employees, remote staff, and volunteers to create their online service and build their community. I extended my reach to books, where I became a bestselling author of more than 60 computer and travel guidebooks. I have taught over 20,000 students through courses and reached over 10 million readers over my 20-year career.
As a businesswoman, I co-founded a successful travel publishing business that produces innovative and award-winning guidebooks. Through that business, I built my mailing list to more than 60,000 and that single list has driven sales for YEARS and resulted in a $18,000 product launch.
Almost four years ago, I decided to "do something I love" with a personal blog about my DIY projects & crafts. I had NO mailing list, but I knew I needed one so I could reach MY people. In January 2017, I created a resource library out of necessity -- I needed a place to house my DIY & craft freebie downloads for my blog readers. I was astounded to discover just how successful that resource library would be in building a list from scratch. In less than six months, I had more than 10,000 subscribers. I spent no money on Facebook ads to build this list, nor did I use pop-up ads on my site to get people to join it.
I can teach you how to do this, even if you're brand new to the whole idea of a mailing list and list-building. List Love is a step-by-step system that will create a list you'll LOVE!
Here's what students who've taken Jennifer's courses have to say:
"Jennifer is an awesome teacher! I've taken several online classes, and she is by far one of the best I've learned from. Not only is she thorough, but she is clear, easy to follow, and anticipates questions beautifully. Her combination of video and written instructions is a win for all learning styles, which is a bonus. She's also fun!" -- Lisa Yvonne
"Jennifer is the first teacher I've met in years that puts her students first. She gives excellent instructions, answers all questions, and lends a hand when you're stuck! I've never had a more pleasant or effective learning experience." -- Michelle Darby
"Jennifer has nailed my style of learning. I need actionable steps and I need them in order. Without knowing what I need to conquer first, I get lost and overwhelmed. Not only has she mastered the step-by-step approach to teaching but she also offers a personal approach. I love knowing that I can ask any question, at any time, and get an answer. She is obviously committed to the success of her students; it shows with everything she does!" -- Kara Fidd
"The depth of information you will find in Jennifer's courses is beyond comparison! Jennifer is easy to listen to, very professional, and has a teaching style that makes anyone feel like they can learn! I've taken many courses and this is the first one that feels like everything is spelled out for me in an easy to understand format. She makes learning enjoyable and effective!" -- Amber Fox
"Jennifer is a delight to learn from - she knows her stuff, and she shares so much value with you in her courses - it's amazing they don't cost twice the price!" -- Lois @ Live Nourished
Course Curriculum
Welcome to the LIST LOVE Quick-Start Guide!
Available in days
days after you enroll
Love Your List: Why a List is SO Important and How it Can Rock Your World
Available in days
days after you enroll
Frequently Asked Questions
When does the course start and finish?
The course starts now and never ends! It is a completely self-paced online course - you decide when you start and when you finish.
How long do I have access to the course?
How does lifetime access sound? After enrolling, you have unlimited access to this course for as long as you like - across any and all devices you own.
What if I am unhappy with the course?
I would never want you to be unhappy! If you are unsatisfied with your purchase, contact me within 30 days of your enrollment and I will give you a full refund if you have not progressed(clicked) past unit 1. Please view my refund policy for more details: https://jennifermaker.com/refund-policy/